In the spring of 2022, the Department of Asian Studies organized a crowdfunding campaign for Malayalam studies through the 40for40 program at the University of Texas at Austin. For more than forty years, support from the UT-Austin and from the US Department of Education has made it possible for our department to teach Malayalam. UT-Austin is one of the few US universities to offer courses in Malayalam. Through the generosity of more than 200 friends and supporters, we raised more than $34,000 in order to ensure that Malayalam always has a home at UT-Austin. At the end of the campaign, we decided to name the endowment for the first professor of Malayalam and the person who started the program in the 1980s, Prof. Rodney F. Moag.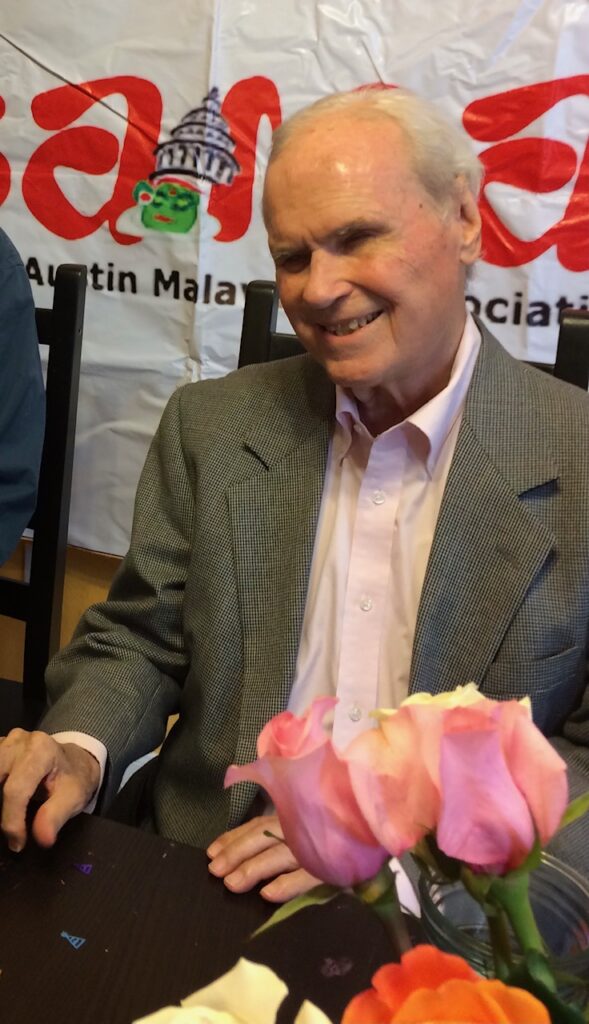 This endowed excellence fund will complement continuing financial support from the University and the federal government, but will also enable us to expand and enrich Malayalam language teaching at all levels. As always, we are committed to promoting cultural awareness of Kerala culture and history, to fostering institutional and educational exchange, and to advancing research of all kinds related to Kerala. In all these efforts, we view our work as part of a national effort, a project that will benefit not just UT-Austin students, but also programs and students across Texas, as well in New Jersey and California and beyond.
Recently, for example, we created exams through UT High School to enable Malayalam-speaking children in the state of Texas to receive high school language credits by exam. We also continue to add resources to our collection of free, online learning materials and teaching resources for Malayalam at this website. These materials are already being used in our courses and in community language programs for children. Finally, we of course continue to offer academic year and summer language courses for college and university students, and even high-school juniors and seniors for transferable college credit.
We are grateful to the many donors whose gifts small and large together created this permanent source of support for the study of Malayalam and Kerala in the US.
Daniel Abraham
Joel Abraham
Shiju Abraham
Yukie Aida
Rojan Alex
Shijy Alex
Sony Ambooken
Sanju Anand
Anonymous (several)
Rakhi Anoop
Ben Baby
Bijoy Babu
Blessan Babu
Shervin Babu
Jacob Baby
Rajetha Balan
Ajesh Balananadan
Emily Beissner
Rani Benson
Arun Bhakthavalsalam
Joel Brereton
David Brick
Biju Chacko
Mathews Chacko
Indrani Chatterjee
Santhosh Chellappan
Cecil Cherian
Jincy Cherian
Aparna Das
Shaji David
Donald Davis
Madeline Davis
Abraham Eapen
Sharath Edathil
Lucy Enniss
Oliver Freiberger
Chempottical George
Biju George
Geeta George
Giby George
Jethin George
Josen George
Mini George
Matthew Gonzalez
Sumit Guha
Kathryn Hansen
Bincy Jacob
Bindu Jacob
Kurian Jacob
Legi Jacob
Philomina Jacob
Sijin Jacob
Rosely Jayapal
Abie John
Baiju John
Jacob John
Joshin John
Lizy John
Teny John
K.K. Johnson
Soosy Johnson
Alice Jose
Bijo Jose
Jane Joseph
Jency Joseph
Jose Joseph
Mathew Joseph
Molly Joseph
Nirmala Joseph
Shaju Joseph
Mary Kallarakal
Seenumole Kamalasanan
Alex Kandathil
Rajanimol Karunakaran
Elizabeth Keyton
Soly Koruth
Anupa Koshy
Tissa Koshy
Nisha Krishnakumar
Reena Krishnakumar
Smitha Krishnan
Jiju Kulangara Thomas
Anupam Kumar
Jino Kuriakose
Xavier Kurian
Richard Lariviere
LANA
Sankar Mana
Darsana Manayathu Sasi
Sidhardh Manayathu
Prasanth Mannaplavu
Arun Mathew
Bobby Mathew
John Mathew
Mammen Mathew
Molamma Mathew
Sali Mathew-Paimpalil
Thomas Mathew
Nisha Mathews
Sapna Mathews
Ninan Mathulla
Issac Menamparampil
Rajesh Menon
Vinod Menon
Neha Mohan
Sujith Mohan
Akaash Nair
Anoop Nair
Kesavan Nair
Lakshmy Nair
Parameswaran Nair
Dr. Prasanna Nair
Priya Nair
Ratheesh Nair
Sunilkumar Nair
Thejas Nair
Vijayakumaran Nair
Rahul Nambiar
Joseph Nampimadam
Hari Namboodiri
Madassey Namboodiri
Godan Nambudiripad
Parameswaran Nampoothiri
Leena Ninan
Anandan Niravel
Jibimon Noby
Patrick Olivelle
George Oommen
Shraddha P
Jaya Palatty
Soman Panicker
Manoj Pappen
Giby Parackal
Priya Pazhayidathu
Renjith Peediackal
Seena Perumal
Levi Philip
Reena Philip
M.V. Pillai
Nalina Pillai
Santhosh Pillai
Sasidharan Pillai
Shibu Pillai
Jeremy Poothakary
Zeby Poycattle
Sayi Pullappally
Janet Pullockaran
Seniya Putheth
Sai Pradeep
Retnamma Prasad
Sushama Prasad
Velayudhan Prasanth
Joseph Pullikattil
Asish Punnoose
Sabu Punnoose
Mary Rader
Matthew Rader
Remesh Ramachandran
Smitha Ramachandran
Arun Ramakrishnannair
Manju Raj
Geetha Rajan
Madhu Rajan
Priya Rajesh
Sanil Raveendran
Hima Ravindranath
Alexis Sabu
Durga Sadasivan
Joji Samuel
Anila Sandeep
Sreevidya Sethumadhavan
Rekha Sharma
Nithila Shenoy
Aaron Sherraden
Anu Shibu
Anilal Sreenivasan
Wilson Staine
Subhala Suresh
John Sutter
Maude Keely Sutton
Mohamed Tharayil
Antony Thekkek
Jason Thamaravelil
Benny Thomas
Blessy Thomas
Manohar Thomas
Nirmala Thomas
Philip Thomas
Romeo Thomas
Sam Thomas
Sony Thomas
Stephanie Timsah
Justin Ulahannan
Jayasri Unni
Deepa Vaisravanath
Betsy Varghese
Jancy Varghese
Joji Varghese
Mathew Varghese
Susannamma Varghese
Srinivasarao Variseri
Nithia Vathielil
Sarita Vijay
Divya Warrier
Bobby Waters
Darlene Waters
Patrick Waters
Robert Waters
Todd Wolf
K.C. Wright
Linda Wright
Taylor Wright
Jacob Zachariah
Shijo Zacharias
*If your name is missing from this donor list, please let us know and we'll make sure to add it right away.